We saw the potential!
We farm and produce according to sustainable principles that builds on collaboration with nature.
When we took over the farm in August 2012, the farm had not been in use for 50 years. The pastures were overgrown and the buildings needed restoration. In the last 4 years we have been developing the farm into a certified organic farm. We have restored pastures, renovated farm buildings, planted more than 500 fruit trees and berry shrubs, improved the soil, created veggie gardens, restored a pond and established many new biotopes to increase biodiversity.
We farm and produce according to sustainable principles that builds on collaboration with nature. We now begin to see the rewards with healthier soil, high quality crops and a greater variety of species. In September 2015 we took an important step on our way towards a truly sustainable, diverse and productive farm when we delivered 60 tonnes of organically certified oats to Swedish Saltå Kvarn . An award-winning brand which stands for high quality products, sustainable actions and collaborations for a healthier environment.
Our aim is now to take future oriented sustainable farming to the next level by developing the farm into a research, education and demonstration center and retreat, focusing on sustainable agriculture and food production. We want Lindeborgs Gård to be a a green sanctuary full of life, a place open to anyone that would like to experience these systems and learn more.
Meet the team at the farm!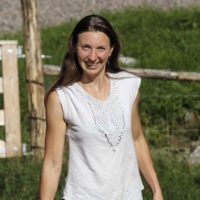 Julia Lindeborg
Julia has a degree in communications and marketing. She has lived and worked in London for many years. She loves to connect with the guests and to make sure that everyone has a pleasant time visiting the farm. She is strongly passionate about transforming the farm into a centre for sustainable food production and to organize classes and events around food and cooking. She runs the guesthouse and is the farm beekeeper. Julia is also a certified permaculture designer and a certified Iyengar yoga teacher.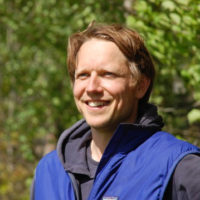 Carl Lindeborg
Carl's background is in business with a degree from Stockholm School of Economics and 15 years of experience as a consultant and teacher. At the farm Carl focus on the farming operation and the restoration of the soil to a soil that is naturally fertile and full of life, and also the forestry that is based on close to nature principles. Carl is also a certified permaculture designer.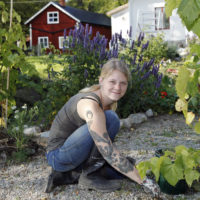 Sina Schneider
Sina has a degree in organic agriculture. She was born and raised in south Germany. After finishing her degree in organic agriculture she moved from Berlin to Nyköping. She runs and plans the gardens at the farm with a focus on old heritage vegetable sorts and eatable flowers. Her passions are herbalism, knitting, drawing, vegan food and of course farming.